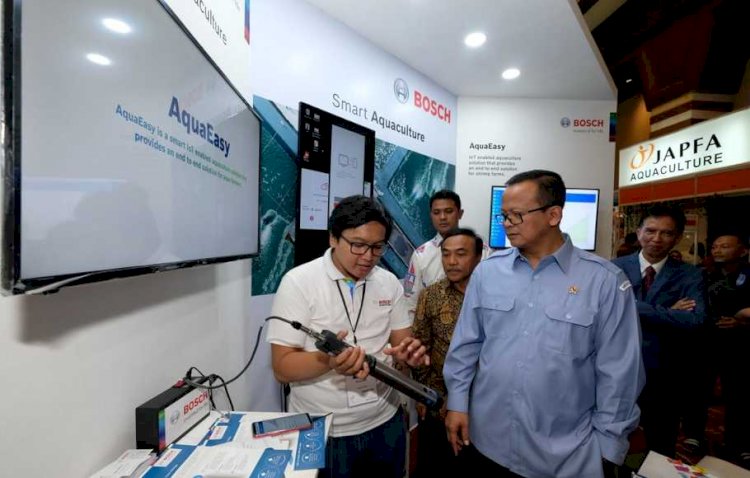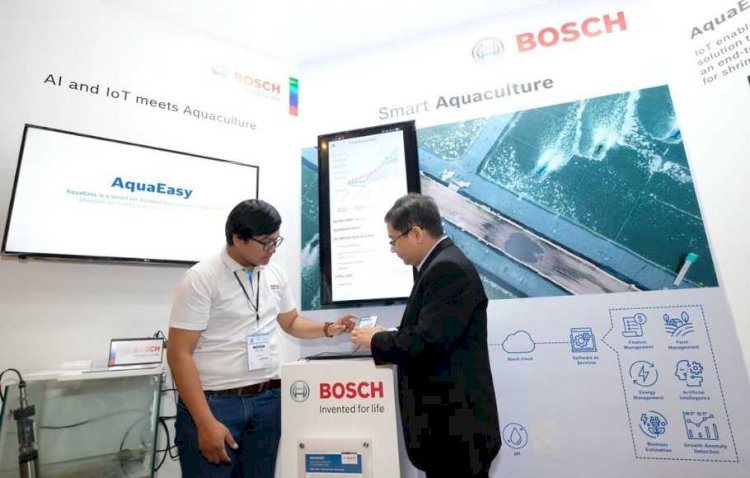 BERITASATU.COM & INVESTOR.ID: Bosch participated in the Aquatica Asia & Indoaqua 2019 in Jakarta, Wednesday, November 6th, 2019. Bosch introduces the Smart Aquaculture solution: AquaEasy, a comprehensive IoT-based solution that combines sensors, software and data analysis capabilities using Artificial Intelligence (AI) to help Indonesian shrimp farmers maintain quality while increasing yields in a sustainable manner.
Maritime and Fisheries (KP) sector has become the largest contributor to the Indonesian economy aligned with President Joko Widodo's mission to have Indonesia become the world's maritime center.
To achieve the target, the Ministry of Maritime Affairs and Fisheries (KKP) continues to encourage the production and export of fisheries commodities.
The fisheries commodities which are driven by production and export are fish, shrimp and seaweed. If the commodity exports are increased, the country's foreign exchange will improve.
To support the increasing production of Indonesian fishery commodities, Bosch, a leading technology and service provider, presents an advanced Smart Aquaculture solution: AquaEasy.
Bosch AquaEasy Product Manager Aries Dwiputera said, AquaEasy Technology is more focused on increasing shrimp production and will help Indonesian farmers maintain quality while increasing their yields sustainably.
AquaEasy technology is a holistic technology that can monitor water quality and shrimp pond management with complete solutions ranging from sensors, software and services.
AquaEasy provides recommendations for optimal harvest periods, prevention of failure risks and estimated feed ratios. This technology is equipped with Artificial Intelligence which provides more in-depth information.
The presence of AquaEasy technology from Bosch also supports a government program that is going towards industry 4.0 where digital use must be a priority, including digital use in the shrimp fishery sector.
"Through this AquaEasy technology, fishers save more time and money because they are digital," he said in Jakarta, Wednesday, November 6th, 2019. This AquaEasy technology has only been developed in 1.5 years and received a fairly positive response from the market and this technology was immediately developed in Indonesia because Indonesia has the largest shrimp ponds.
At present, this AquaEasy technology has been implemented in several shrimp ponds in major producing areas in Indonesia such as Bangka, Lampung, Indramayu and Banyuwangi.
"The use of technology must be equitable in all sectors including the fisheries sector because technological development can no longer be avoided," he said. The sensors used in this AquaEasy solution are parameters, pH, temperature, salinity and water conductivity.
The farm owner can control the farm only through a smartphone because AquaEasy solution can be downloaded and the payment is subscription at a cost of Rp 1 million per month.
Reference articles: https://www.beritasatu.com/galeri-foto/27217-solusi-smart-aquaculture.html & https://investor.id/business/bosch-perkenalkan-teknologi-smart-aquaculture-aquaeasy-untuk-tambak-udang