Call for Paper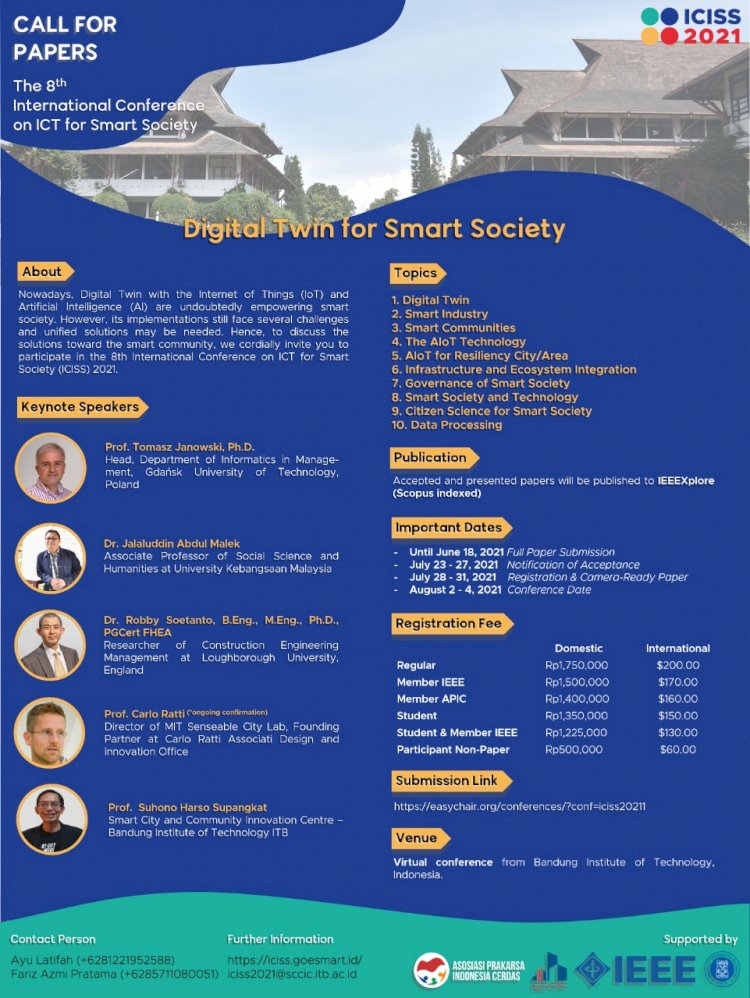 Digital Twin For Smart Society
ICISS 2021(https://iciss.goesmart.id/) is is organized by the Information Technology Research Group of the School of Electrical Engineering and Informatics, Bandung Institute of Technology. Papers from previous ICISS 2013, 2014, 2016, 2017, 2018, 2019, and 2020 have been published in IEEE Xplore and indexed in Scopus.
????️ Conference Date: August 2nd – 4th, 2021
Important Dates
Until June 18th, 2021 : Paper Submission (4 pages)
July 23rd – 27th, 2021 : Notification of Acceptance Date
July 28th – 31st, 2021 : Registration and Camera Ready
———————————————
Theme: Digital Twin for Smart Society
———————————————
Tracks
We welcome high-quality papers that describe original and unpublished research papers addressing the real issues, methods, and challenges on the following areas of Digital Twin for Smart Society, but not limited to:
???? Digital Twin
???? Smart Industry
???? Smart Communities
???? The AIoT Technology
???? Data Processing
???? AIoT for Resiliency City/Areas
???? Infrastructure and Ecosystem Integration
???? Governance of Smart Society
???? Smart Society and Technology
???? Citizen Science for Smart Society
———————
Keynote Speaker
———————
1. Prof. Tomasz Janowski, Ph.D.
(Head, Department of Informatics in Management, Gdańsk University of Technology, Poland)
2. Dr. Jalaluddin Abdul Malek (Associate Professor of Social Science and Humanities
University Kebangsaan Malaysia)
3. Dr. Robby Soetanto B.Eng., M.Eng., Ph.D., PGCert FHEA (Researcher of Construction Engineering Management at Loughborough University, England)
4. Prof. Carlo Ratti (Director of MIT Senseable City Lab, Founding Partner at Carlo Ratti Associati Design and Innovation Office) *ongoing confirmation
5. Prof. Suhono Harso Supangkat (Smart City & Community Innovation Centre – Bandung Institute of Technology ITB)
Paper submission:
https://easychair.org/conferences/?conf=iciss20211
All accepted and registered papers in ICISS 2021 will be published in proceeding and the presented ones will be submitted for inclusion in IEEE Explore.
for more information:
???? https://iciss.goesmart.id/
???? iciss2021@sccic.itb.ac.id