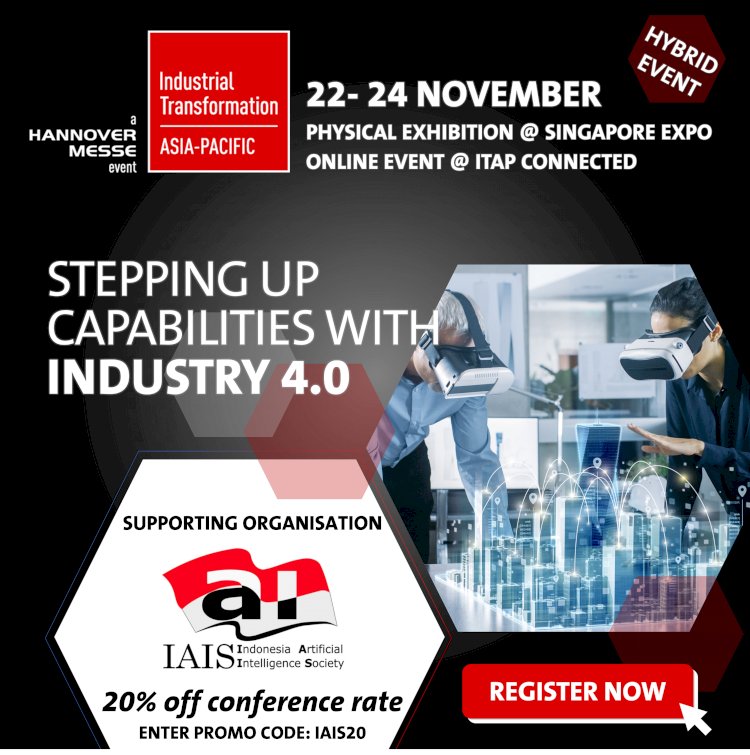 IAIS mendukung kegiatan INDUSTRIAL TRANSFORMATION ASIA PACIFIC – 22-24 NOV 2021 di Singapore.

SO MUCH TO EXPERIENCE
@ ITAP 2021
22-24 November 2021
Physical Exhibition @ Singapore EXPO | Digital Event @ ITAP Platform
ITAP 2021 comprises a 3-days power-packed programme line up, accompanied by a physical exhibition and a virtual platform to serve multiple industry sectors, countries and market needs. This is a perfect opportunity for you to study the different levels of industry 4.0 (I4.0) adoption and exchange knowledge with regional stakeholders, network and build connection beyond geographical, language and time barrier.

Register today to get the opportunity to attend ITAP 2021 physically at Singapore EXPO!
GRAB YOUR FREE VISITOR PASS NOW
What's in For You?

3-DAY CONFERENCE TRACKS


SIGN-UP YOUR DIGITAL CONFERENCE PASS
OTHER PROGRAMMES & ACTIVITIES
VIEW FULL PROGRAMME
SEE YOU ON 22 – 24 NOVEMBER