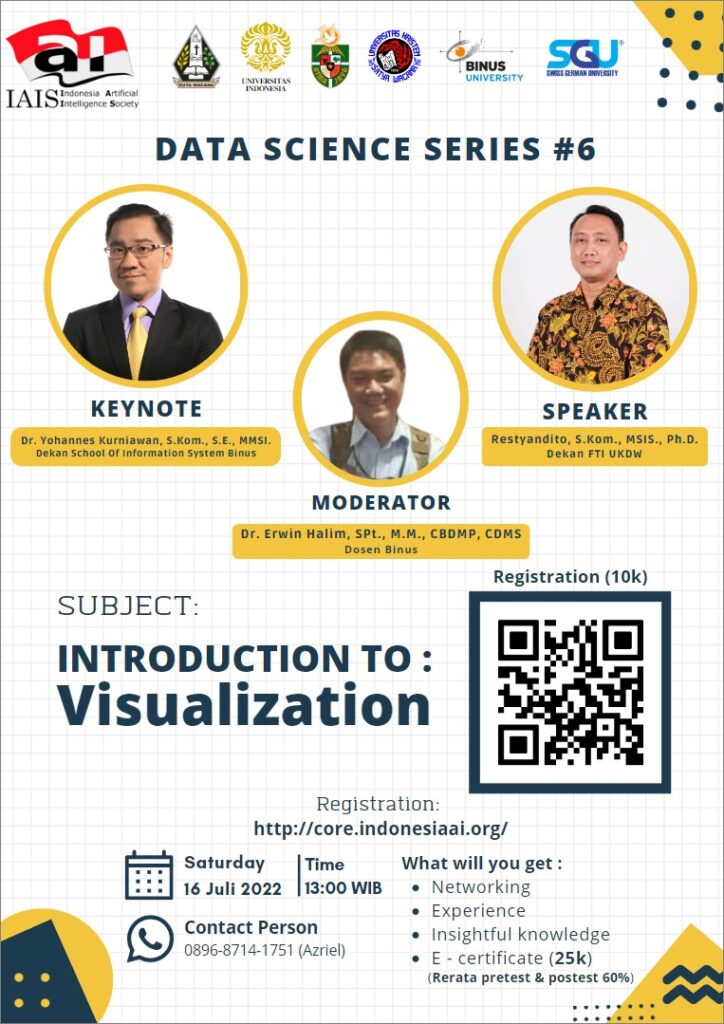 Kolaborasi Universitas dengan IAIS (Indonesia Artificial Intelligence Society) melibatkan Universitas Kristen Duta Wacana, Binus University, Universitas Katolik Indonesia Atma Jaya Jakarta, Universitas Indonesia, Universitas Kristen Satya Wacana, dan Swiss German University.
Menghadirkan para pembicara kompeten membahas berbagai tema menarik seputar data science bagi murid SMA/SMK, mahasiswa S1/S2/S3, karyawan perusahaan atau PNS yang berkecimpung dengan data.
Seri #6 Introduction to Visualization
Tanggal 16 Juli 2022, pkl. 13.00 WIB
Keynote : Dr. Yohannes Kurniawan, S.Kom., S.E., MMSI. (Dekan School Of Information System Binus)
Speaker : Restyandito, S.Kom., MSIS., Ph.D. (Dekan FTI UKDW)
Moderator : Dr. Erwin Halim,  SPt., M.M., CBDMP, CDMS (Dosen Binus)
Daftarkan diri anda segera di https://core.indonesiaai.org
Contact Person: +62 811-539-703 (Alya) | +62 811-80-1415 (IAIS)
What will you get:
Networking
Experiences
Insightful knowledge
e-Certificate (25K) – rerata pretest & posttest 60%
Join now!